Bojana Vasilijevic is an example of someone who came to me looking to do an interview. I am so glad she did. I was familiar with her before she came to me, but did not know a lot about her. After learning about her, I became so impressed. Bojana has a great physique, which is obvious by her many many competitions and great placings, including just recently finishing 1st in the N.Y. Metropolitan. Being a gymnast was of help to her when she started training to compete, and as much as she loves the sport, even without the gymnastics background, you know she would be great. With her long competitive record, you can also tell she loves to compete, and loves the sport, and is one of many reasons every fan of the sport should be a fan of Bojana. So here is your chance to get to know an incredible woman.
Q: First,Bojana,I want to thank you for taking the time to do this.
A: Thank you for all your support for the women in sport. It is a truly an honor for me.
Q: Can you start out by telling a little about yourself. Family,where you are from,things like that.
A: I was born and raised in Yugoslavia (Serbia). I finished there High Medical School and University of Sports and Physical education. I am currently married,and my current city of residence is Monticello,NY.
Q: Before the gym were you an especially athletic person? Play any sports or anything?
A: I have been an athlete for as long as I can remember. I was a gymnast from time I was three years old,until I was 12. I was also a successful track and field competitor (sprint discipline). My whole life I was connected with thoroughbred racing, because it is a family tradition. I was thoroughbred rider and had my own horses. Before I came to the fitness world,I already had a good base from being so athletic. My whole life was training and working out. In gymnastic I learned my work ethic.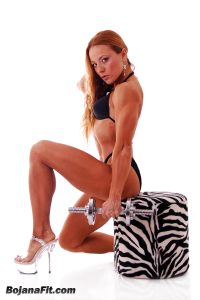 Q: What initially led you into gym?
A: Actually,gymnastic and track & field got me into gym, but I didn't really get into it seriously until I started competing in fitness. I was always interested in weights. When I was a little girl I loved so much Arnold Schwarzenegger!
Q: Was training something you picked up fairly easy? How long before you started to see results?
A: I picked training up pretty quickly, because of my sports background. The key of success in this sport is: good training, proper nutrition and healthy lifestyle. I really started seen results when I kept a close eye on my nutrition. Very quickly I saw a differences in my physique.
Bojana Vasiljevic ObradovicQ: How long were you training when you decided to compete and what made you decide to compete?
A: I would go with my friends to watch my first bodybuilding and fitness competition. When I saw fitness class and routines, in the moment I decided to compete. I think this is good things for me because I really miss the gymnastic training. In fitness I can continue to train with something that has a connection with my favorite sport,and improve my self. So,after 2 weeks I was doing my first show.
Q: Was competing something your family and friends supported at the time?
A: They like knowing I am doing something that I am passionate about. My husband has always been supportive of all decisions I have made. He is my trainer,because he was also sports competitor and now he is a Master of sport sciences.
Q: Was the first competition what you expected? Did anything surprise you?
A: I never thought I would get that scared on stage. I forgot my choreography and I improvised. Nobody knew ,not even the judges. I was 3rd,and I was very happy with that bronze medal. That day was full of surprises. I was euphoric next 3 days!
Q: You have a long contest history. So instead of having to list it all,can you list some of your highlights or favorite ones.
*2010 STEVE STONE METROPOLITAN CLASSIC- Figure A- 1st place
*2010 IFBB ARNOLD CLASSIC AMATEUR- Figure A- 2nd place
*2009 IFBB WORLD CHAMPIONSHIP,Italy- Bodyfitness(-158cm)-5th place
*2009 IFBB NATIONAL CHAMPIONSHIP OF SERBIA-Fitness-1st place
*2009 NABBA USA EAST COAST CHAMPIONSHIP-Figure short- 1st and Overall
*2009 WFF UNIVERSE,Germany-Fitness- 3rd place
*2008 IFBB FIT PARADE,Hungary-Fitness- 3rd place
*2008 WFF WORLD CHAMPIONSHIP,Germany-Fitness- 1st place
*2008 WFF WORLD CUP,Austria-Fitness- 2nd place
*2008 WFF UNIVERSE ,Germany-Fitness- 2nd place and Pairs- 1st place
*2007 IBFA EUROPEAN CHAMPIONSHIP,Italy-1st place
*2007 IBFA MISS & MISTER UNIVERSE,Italy-1st place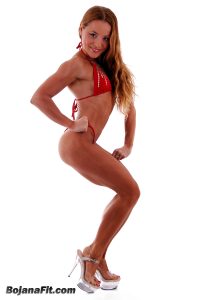 Bojana Vasiljevic ObradovicQ: As far as body parts,what do you feel is best one?
A: People always compliment my overall symmetry,especially abs,back or legs…For me-abs!
Q: Do you have a part you most like to train or favorite exercise?
A: My favorite exercise is definitely dead lift. I like classic exercises like squats, bench press, dead lift. You can't go wrong with that. I love the feel after a hardcore workout.
Q: What is your normal training routine and diet like, and how do you alter it for contest prep?
A; I train six days a week, hitting different body parts. I do cardio every morning and after weight training. If I am preparing for fitness class, I do my routine several times a week. In off season I do less cardio. If I had the energy during contest preparation, I would lift as heavy as I do off season. My diet is clean all year round, low carbs,low sodium,lean food….
Q: When someone sees or hears you compete for the first time,what is the most common reaction? More positive or negative?
A: Generally don't really hear negative comments or reactions. It is hard to explain to ordinary people the differences between bodybuilding and fitness/figure. It is a sport and art.
Q: When they see or hear it that first time,what is the one question or comment you are most sick of hearing?
A: People constantly asking me about my ABS. Do they look like that naturally, if not what exercise I do for this body part or how many hours you train for those abs. I always say: "This is genetics",and this is truth in my case.
Q: What is the biggest misconception about women who train and compete or the one thing you wish people understood?
A: First association of women in this sport is steroid using and unhealthy diet! This is a classic stereotype. Muscle tone body is the result of proper nutrition and specific training. Also many women are afraid of weight lifting training,and don't like to accept that they can't sculpt their body with just aerobic classes.
Bojana Vasiljevic ObradovicQ: What is the best and worst part of competing?
A: The best part for me is competing with my self, and trying to be better, watching how my body changes shape every day. The bad thing for me is tanning before competition. I hate competition color.
Q: Do you have any favorite competitors or any you admire?
A: I like the older generation of women's bodybuilders like for example Anja Langer. I love her. she's beautiful physically. Also I think that Elena Shportun is awesome physically,real elegant and feminine.
Q: Do you have a favorite cheat food?
A: Chinese,chocolate with peanut butter….
Q: If another woman told you she wanted to start training, what is the one piece of advice you most want to give her?
A: Most important to somebody who wanted to start training is to have good a trainer, somebody with good education and own experiences in this field. This is the way to save time, health, money, and see results very soon and keep it for long time.
Q: You are also a trainer. What got your interested in that and what do you enjoy about doing it?
A: I enjoy promoting a healthy lifestyle for everyone and also for people who would like to compete. Seeing people who are pleased with the results they get while training with me, gives me a great sense of accomplishment!
Q: You have a website coming soon. Can you give the address.
A: www.bojanafit.com
Q: Outside of training, any other hobbies or activities you enjoy?
A: I love so much to swimming, horseback riding, ski, make my competition choreography, design my competition suits…..
Q: Can you describe typical day in the life of Bojana Vasiljevic-Obradovic.
A: First thing in the morning is a cardio session before my first meal (I like to swim early in the morning). After that I go to gym for weight lifting training and work with my clients (personal trainings).
Q: What is one thing people would be surprised to know about you?
A: I was a rider in thoroughbred horse racing, and I had an bad accident with a horse a few years ago. I am happy that we both survived.
Bojana Vasiljevic ObradovicQ: Describe Bojana Vasiljevic-Obradovic in five words.
A: Dedicated, Courageous, Loyal, Athletic, Optimistic…
Q: Any set plans for the near future as far as competing or anything else?
A: NY Metropolitan, IFBB European and World Championship 2010
Q: Anything you want to take this opportunity to plug or promote?
A: Thanks to my family and friends to support! Also thanks to people who did not believe in me-they gave me extra energy to succeed-their negative energy has been my fuel !
Q; Are you looking for sponsors? If so how can they reach you and what are they getting in Bojana Vasiljevic-Obradovic the athlete and competitor?
A: Yes I would love to have sponsors with products I truly believe in. I would work very hard to promote these products with honesty and sincerity. And I believe that people would see this and know I believe in the products I am talking about.
Q: Bojana,again,I thank you for taking the time to do this. Any last words before you go?
A: Thank you for promoting our sport and good luck with your site!
Interview from: http://promotingwomen.blogspot.com/